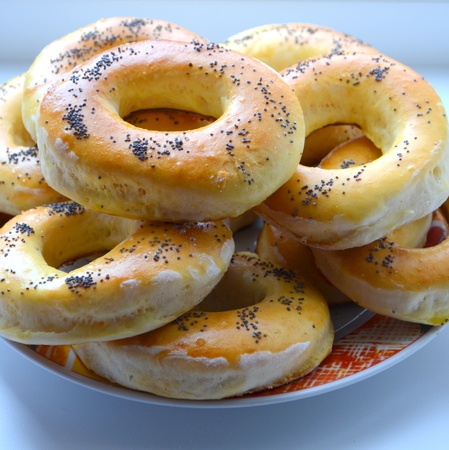 The bagel, also spelt beigel, is a bread product which originated in the Jewish communities of Poland.  Traditionally, it's made of a yeasted wheat dough shaped into a ring, which is first boiled and then baked. These days some bagels are steamed before baking, thus eliminating the boiling stage.
This process results in a dense, dough interior and sometimes a crusty exterior. Sometimes bagels are topped with seeds, eg poppy, sunflower or sesame, or salt. Bagels can also be made from different dough types, eg rye or wholemeal.
Bagels are now very popular in North America, especially where there are large Jewish populations. They are also becoming increasingly popular and more readily available in Britain.
Recipe