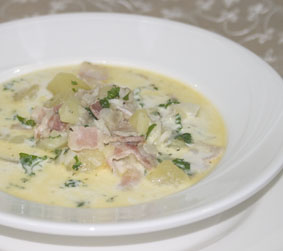 What is it?
Chowder is stew-like soup with milk or cream, thickened with crackers or potatoes. It's usually made with seafood or vegetables.
Famous examples include New England clam chowder and Cullen skink, a Scottish variation of the dish where smoked haddock is used to add flavour.
Chowder can look a bit special if it's presented in a bread bowl.
Recipes
Not Delia's bacon, potato, and crab chowder
Jamie Oliver's corn chowder