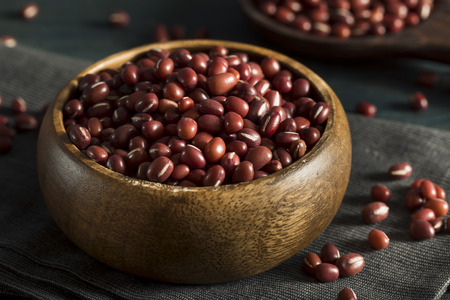 The adzuki bean originates from Japan and is sometimes also called azuki, aduki, or red mung bean in English. The bean is also commonly cultivated in Asia and it is the red variety which is most widely grown. However, other varieties are available, eg white, grey, black and even mottled.
The adzuki bean most Scoffopedia readers are most likely to encounter is a small reddish-brown bean with a cream-coloured sprout, which looks like a seam. The bean has a sweet, nutty flavour. In Asia, especially Japan and China, the bean is sometimes cooked, pureed and sweetened for inclusion in desserts. In Western cuisine, it's most likely to be used in soups, stews and salads.
The bean is said to have health-giving properties, reputedly benefiting the liver and kidneys. It's highly prized in Japan for this reason.